With the ground finally thawing its almost that time of the season again, as usual we are waiting for consecutive nights around +10 before we start up. Keep in mind that there's no point trying to seal when the grounds not fully thawed yet.

PM or email for free estimate with your driveway size or addy (Google maps is a wonderful thing for the most part with helping us make general estimates)
Steve Goleski, S2 Driveway Sealing, s2drivewaysealing@gmail.comS2 Driveway Sealing
fully insured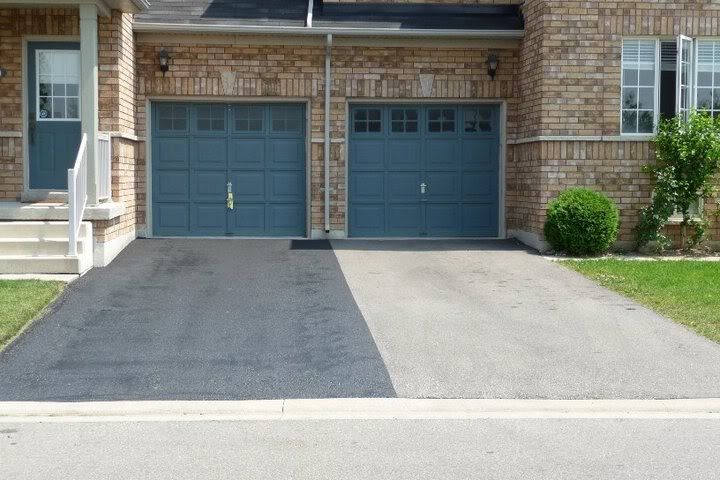 What We Do
- remove all dirt and debris from driveway
- treat oil and gas stains
- fill and repair cracks and repair
minor
potholes
- trim driveway edges
- seal entire driveway
- mark off bottom of driveway
- tape your garage, curb, sidewalk and stone work to ensure they stay clean
- board while spraying near house to ensure no overspray
Your Driveway will be ready for use in 24 hours!Benifits
- protects your driveway from water, frost, chemicals and salt
- increases the curb appeal of your home
- gas and oil leaks can be cleaned easier
- helps attract sun to melt snow and ice faster
- reduces deterioration of your driveway from UV rays
- our oil based product penetrates the asphalt, providing better protection versus those other water based acrylic products sold at local home improvement stores
For a
FREE, no obligation
quote please contact us via PM or email
s2drivewaysealing@gmail.com
or call
Steve Jr 647-388-6438 (call or text)
Steve Sr 905-699-6438 (call only, after 530pm on weekdays)
Mention this ad on the hawthorne villager at time of booking for a discount (which varies with price quoted & size of driveway).
Here's a testimonial from one of our many happy customers:
Dear Steve & Steve: We just wanted to thank you once again for the outstanding job you did on our driveway. In the past years, we have had other companies reseal our driveway & we must say that you are by far the best. What impressed us the most, was your after service follow up to ensure our satisfaction - something very few companies do anymore, or even care to do. It will be our pleasure to highly recommend your service to our family & friends & will gladly speak to your future clients, who may want a referral. So again, our many thanks for a job well done!!
Jack & Merna,
Milton